Happiness cannot be traveled to, owned, earned, worn or consumed. Happiness is the
spiritual experience of living every minute with love, grace and gratitude. - Dennis Waitley


Highlights (Photo Album in Marinduque)

Home | Accomodation | Highlights | Links | Contact Us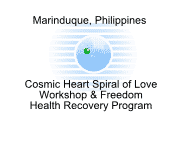 North Vancouver, B.C., Canada Tel: 604-987-1797
February 21, 2004 © Ricardo B. Serrano, R.Ac.